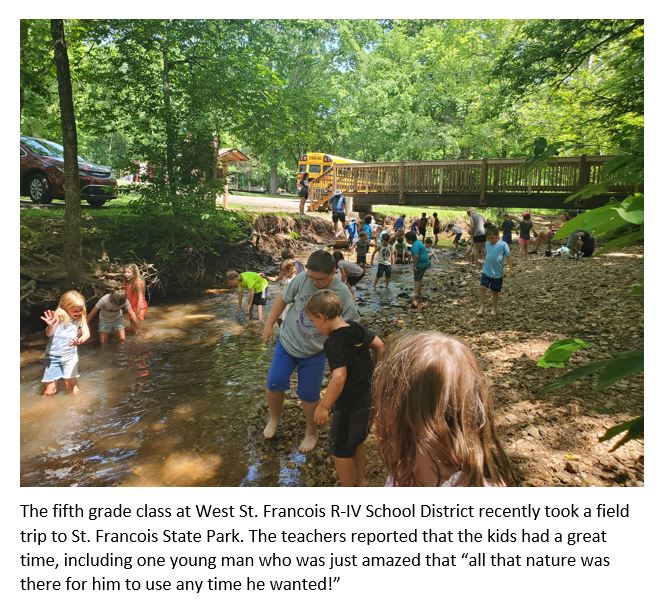 The Bus Grant Program assists schools and nonprofit organizations with the transportation expenses of field trips and outdoor learning opportunities at Missouri state parks and historic sites. Bus grants have been made available to Missouri schools and youth-focused nonprofit organizations throughout the state.
The Bus Grant Program grant round is currently open and accepting applications for the 2023-2024 school year. This is a noncompetitive grant that is awarded on a first-come, first-served basis to qualified applicants. Applications must be submitted by email or mail by May 8, 2024, for field trips planned for the 2023-2024 school year (July 1, 2023, to June 30, 2024).
Bus Grant Application and Instructions:
Attachment A: Terms and Conditions
For more information about the Missouri State Parks Bus Grant Program, please email mspgrants@dnr.mo.gov.
Highlighted Projects:
Thayer High School

Students from Thayer High School visited Onondaga Cave State Park to learn about a variety of ecosystems, processes that shape our environment, karst topography and issues park systems face as they try to preserve our caves for future generations. 

Miami R-1 Elementary School

Students from Miami R-1 Elementary School visited Prairie State Park to learn how Native Americans used bison for their survival and why preserving our prairies and natural resources is important.

Arcadia Valley Middle School

Students from Arcadia Valley Middle School attended the Missouri Department of Natural Resources annual Earth Day celebration on April 21, 2023, on the south lawn of the Missouri Capitol. 

Jefferson City School District – Clarence Lawson Elementary School

Students from Clarence Lawson Elementary traveled to Ozark Caverns at Lake of the Ozark State Park as a thank you and a reward for their dedication and leadership and their willingness to help with the Safety Patrol program during the school year. 

Ralls County Elementary School

Students from Ralls County Elementary School went to Mark Twain Birthplace State Historic Site to learn about the site's history and participate in park activities.