A Missouri State Parks gift card lets you take advantage of a more convenient way to make camping reservations, purchase state park merchandise and give great gifts to your friends. A gift card can be purchased for $10 or more. Physical gift cards purchased online or by phone will be sent by postal mail. Please allow seven to 10 business days for delivery. E-gift cards will sent to the email address on your customer account within 24 hours.
You can also reload the gift card for any dollar amount to make it the gift that keeps on giving.
Purchase a gift card today:
On the reservation system website (credit/debit card only).
By calling 877-422-6766 (credit/debit card only).
By visiting a Missouri state park or historic site (cash or credit/debit card only).
Gift cards may be used for the following:
*Gift cards may not be used for any of the following: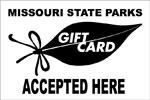 The list above will be updated as new options become available. Look for the gift card symbol displayed at locations accepting this method of payment.
Gift cards are not redeemable for cash. Missouri State Parks is not responsible for replacing lost or stolen cards. To check the balance on your gift card, please call 877-422-6766 or or visit us at icampmo.com and click on "Gift Cards."