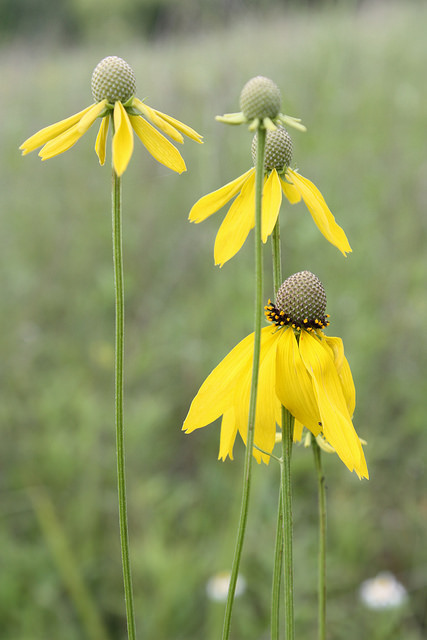 St. Francois State Park is home to a rich diversity of native flora and fauna. From beautiful carpets of bluebells during the early spring to crimson displays of maple and oak foliage in autumn, there is always something wonderful to catch the eye. Many uncommon flowers and unique landscapes are easily observable, such as queen of the prairie and its fen habitat. Many areas of the park are being restored to pre-settlement open woodlands, with rich stands of prairie grasses and wildflowers. Huge sycamores more than 250 years old line the banks of the Big River, with open glades dotting the bluffs above.
Several interesting animal species make St. Francois State Park their home. The park offers excellent opportunities to view popular favorites, such as white-tailed deer and wild turkey. Park visitors are just as likely to see raccoons, owls, hawks and a countless variety of songbirds. The observant visitor may even catch a glimpse of a collared lizard, beaver, bobcat or coyote. Visitors of all ages will find something remarkable at every turn. 
Removal and Collection of Park Plants and Mushrooms
No person shall cut, carve or injure the bark, or break off limbs or branches or mutilate in any way, or pick the flowers of any plant species within any state park or historic site. Persons may collect for personal consumption within the state park or historic site small quantities of wild edible fruit, berries, seeds and nuts (excluding below-ground plant parts) in quantities not to exceed a 1-gallon container. Any such edible fruit, etc. so collected shall not be transported outside the state park or historic site. Every person is permitted to collect by hand edible mushrooms for personal consumption outside the state park or historic site providing that the quantity collected does not exceed that which fills a 2-gallon container. No person shall dig in or otherwise disturb or destroy grass areas, or lawns, pile debris or material of any kind on park grounds or attach any rope, wire or other contrivance thereto. No person shall plant or remove any vegetation and/or propagules (seeds, roots, etc.), or collect or remove flowers or other plant parts without the written permission from the director.