Remembering an American Tragedy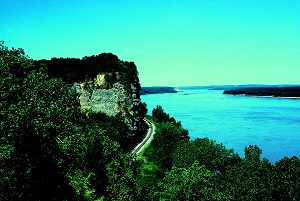 In 1830, President Andrew Jackson passed the Indian Removal Act, which called for American Indians living east of the Mississippi River to be removed and be relocated west of the Mississippi River. Trail of Tears State Park commemorates the Cherokee Removal.
While some of the Cherokees left on their own, more than 16,000 were forced out against their will. In winter 1838-39, an endless procession of wagons, horsemen and people on foot traveled 800 miles west to Indian Territory. Others traveled by boat along river routes. Most of the Cherokee detachments made their way through Cape Girardeau County, home of Trail of Tears State Park. While there, the American Indians endured brutal conditions; they dealt with rain, snow, freezing cold, hunger and disease. Floating ice stopped the attempted Mississippi River crossing, so the detachments had to set up camps on both sides of the river. It is estimated that over 4,000 Cherokees lost their lives on the march, nearly a fifth of the population.
Legend says that Nancy Bushyhead Walker Hildebrand died and was buried within the park's boundaries. She was the sister of Rev. Jesse Bushyhead, who led one of the detachments, and the wife of Lewis Hildebrand, who led another. Her two children traveled on and made it to Indian Territory. The Bushyhead Memorial in the park is a tribute to her and all the other Cherokee who died on the trail.
Trail of Tears State Park is a certified site on the Trail of Tears National Historic Trail. The park's visitor center features exhibits that interpret the forced relocation, as well as the park's many natural features.
The park preserves the native woodlands much as they appeared to the Cherokee. Mature forests cover much of the park, which is characterized by sharp ridges and steep ravines. Located directly on the Mississippi River, visitors can view the plentiful wildlife, including white-tailed deer, turkeys, hawks and foxes. The large trees on the bluffs and cliffs along the river are noted as winter roosting sites for bald eagles.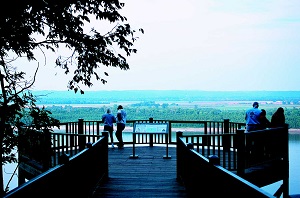 Indian Creek Wild Area features hardwood forests of white oak, black oak, tulip poplar and hickory. Flood plain forests along Indian Creek contain large sweet gums and willows, while junglelike areas thick with wild grapevines abound in the lowlands. Nearby, limestone bluffs tower more than 60 feet above the river. Peewah Trail, used by hikers and equestrians, winds through this 1,300-acre wild area.
The 300-acre Vancill Hollow Natural Area contains plant communities more common to the eastern United States than the Missouri Ozarks. These forests have characteristically eastern species, rare to Missouri, such as American beech, tulip poplar and cucumber magnolia. The moist ground is covered with a rich growth of luxurious ferns and wildflowers.
For visitors wishing to spend a night or more, basic campsites are located in the heavily wooded area of the park. Campsites with electrical hookups and electricity and sewer hookups are located in a campground near the river. Campground facilities include modern restrooms, hot showers and a dumping station. For backpackers, a primitive camping area borders a loop of Peewah Trail.
Anglers can cast their luck in the Mississippi River, which offers three catfish species, rare sturgeon species, freshwater drum and American eels, while the 15-acre Lake Boutin is stocked with bass, sunfish, channel catfish and crappie. Popular lake activities, such as boating (electric motors only), canoeing and swimming, and scattered picnic sites make Trail of Tears State Park an excellent place to come for a day of relaxation.