Rock Bridge Memorial State Park Interpretive Themes:
Cave Access:
Connor's Cave and the Rock Bridge are open year-round to explore on your own. Self-guiding instructions are available upon request. Groups of 15 or more may call to make arrangements for a guided tour. Conner's Cave is 166 feet long with a stream running through it. Flashlights, helmets and sturdy shoes are recommended to explore the cave. To schedule a group tour or to learn more about Connor's Cave, call the park office at 573-449-7400.
Devil's Icebox Cave is closed until further notice to protect bats. Bats that inhabit Devil's Icebox Cave include federally-endangered gray bats who raise their young in the cave during spring and summer and several species who hibernate in the cave in winter.  Since they are already stressed with fighting White Nose Syndrome, it helps bats if we avoid disturbing them.  Devil's Icebox Cave is serving as a refuge where surviving bats can grow in strength and number.
Please help us protect Missouri's bats: White-nose syndrome, a fungus that is fatal to bats but does not affect humans, is found throughout the eastern United States and Canada.  The name describes a fuzzy white fungus, Pseudogymnoascus destructans, which typically appears on the faces and wings of infected bats. This serious wildlife issue was first detected in Missouri in 2010, and bats with the disease were discovered in several Missouri caves by 2014.
There are precautions you can take to minimize the potential spreading of white-nose syndrome in Missouri. Please do not wear the same clothing, footwear, accessories or equipment that has been in any other cave and follow these same guidelines when visiting other caves.  If you want to help us protect bats, remember that twice is too much when it comes to what you bring into a cave! 
For more information about white-nose syndrome, go to http://whitenosesyndrome.org/. 
Programs Available for Groups of 15 or More People (school, civic, family, business):

Group leaders should call 573-449-7400 and speak with the park naturalist to make arrangements. A call is preferred over email for discussing what best meets the needs of your group. For best results, call at least two months in advance and have two or three date options in mind.
Connor's Cave Tour
Groups of 15 to 35 are guided on the half-mile Devil's Icebox Trail and into Connor's Cave.
Connor's Cave is a wild cave about 166 feet long with a stream flowing through it that is usually a few inches deep. There is space for walking upright except for 15 feet of stooping.
You will get your feet wet, experience a lights-out period and have the opportunity to see cave animals.
Information is shared about geology, cave life and features along the trail. 
Time required is 1.75 hours (can be reduced if the information or the hike is reduced).
Larger groups can usually be accommodated by dividing into multiple groups and staggering the tours. An option for very large groups is to move independently to three stations.
If your group is not very large and you have additional time, you have the option to explore Cave Cricket Crawl, a side passage inside the Rock Bridge.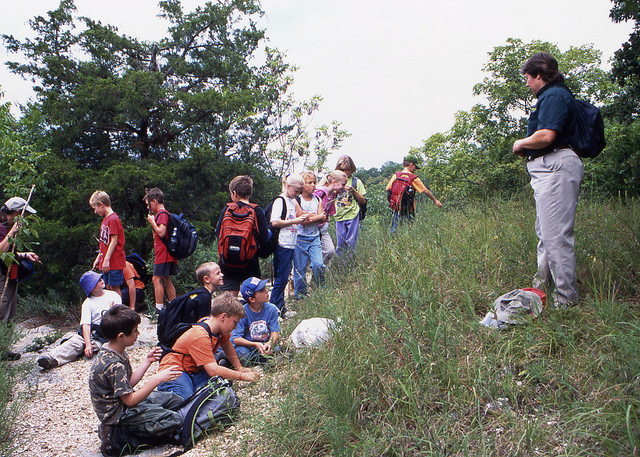 Habitats – Experience and learn about prairie, pond and forest habitats all within short walking distance. 
Streams – Use small nets (provided) to catch aquatic animals in a shallow stream and learn about stream ecology.
Bats - Learn about the unique characteristics and amazing abilities of bats and play a game that demonstrates how echolocation works.
Hikes – Distances, times and topics can be tailored to your group's needs.
Portable Cave – This activity is conducted at your site, where you will need 20'x 20' of floor space and electricity. Kids crawl into a big plastic blown-up "cave" and view an audio/visual program about bats or caves.
PowerPoint and other audio/visual programs – These programs can be conducted at your site or at the park's meeting room (holds 25).  Topics specific to the park:
The Chapters of Rock Bridge Memorial State Park (history, caves, other habitats, recreation)
Natural Resources the Park Protects
Influential People in the Park's History
Devil's Icebox Cave
Bats
Invasive Plants
Additional topics: butterflies, frogs and toads, owls, spiders, snakes, prairies, Ozark glades, white nose syndrome, bird watching, Osage Indians and Missouri State Parks. 
 Programs Available to Individuals and Families:
Weekends on the Boardwalk – On certain weekend afternoons in the summer, the public is invited to walk to the Devil's Icebox/Connor's Cave entrance where volunteer naturalists will guide groups of 15 on 20-minute tours and answer questions. Flashlights and helmets will be provided. Come prepared to get your feet wet.
Advertised programs - Those usually offered include wildflowers (spring), bats (summer) and others. Check the website's Events listing.
Explorer/Jr. Naturalist Day Camp - Designed for kids 9 to 11 years old, four, four-hour days of nature activities enable participants (we take 22) to earn either an Explorer or Jr. Naturalist patch. Activities include hiking, wading, cave exploring, nature programs and a service project. Call 573-449-7400 for the dates and to register. Registration opens April 1.