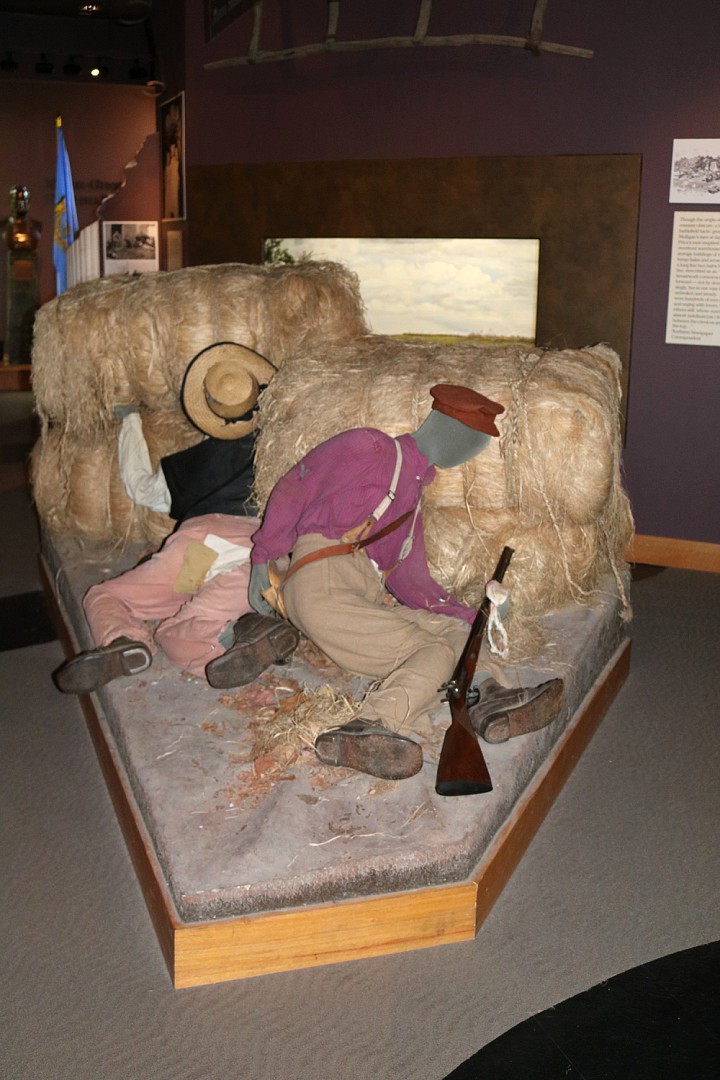 Exhibits in the visitor center tell the story of Lexington during the mid-19th century. These include displays about economic growth, dependence on cash crops such as hemp, reliance on slavery, and transportation such as the river trade and Santa Fe Trail. Other displays describe the social growth of Lexington and divisions due to the Kansas Nebraska Act, border warfare and the onset of the Civil War. The story of Oliver Anderson, the builder of the house used as a hospital during the Battle of Lexington, is related throughout the exhibits. Other exhibits describe the Civil War in Missouri and the Battle of Lexington.
Explore the two major themes represented at Battle of Lexington State Historic Site: the Civil War in Missouri and the culture of the Missouri River valley. Admission to the visitor center, including its exhibits, audio-visual room and souvenir shop, is free. The visitor center opened in 1991.
Visitors can watch a 20-minute video about the Battle of Lexington as seen through the eyes of Louisa Anderson, who witnessed the battle from her house. This video provides an introduction and overview of the Battle of Lexington. Copies are for sale at the gift shop, which also offer postcards, history books and Civil War-related items.
Hours
April through October (On-Season)
9 a.m. to 5 p.m., Tuesday through Saturday and holiday Mondays
10 a.m. to 5 p.m., Sunday
November through March (Off-Season)
10 a.m. to 5 p.m., Wednesday through Sunday and holiday Mondays
On the following days (actual or observed), staff will not be available and site buildings will be closed: Thanksgiving Day; Nov. 24, 2023; Christmas Eve; Christmas Day; New Year's Eve; New Year's Day; Martin Luther King Jr. Day; Lincoln's Birthday; and Presidents Day. 
Weather