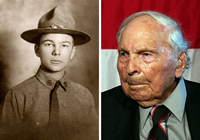 Frank Buckles, the last surviving American to serve in World War I, died Sunday, Feb. 27, 2011, at the age of 110 in his home in West Virginia. Mr. Buckles had a strong Missouri connection. He was born in Bethany and later moved to Vernon County where his parents farmed.  In the war, he served as an ambulance driver and also guarded captured enemy soldiers. After the war, he met Gen. John J. Pershing, another famous Missourian, in an Oklahoma City hotel in 1920. They spoke briefly and found out that they had both grown up about 40 miles from each other. 
Gen. John J. Pershing, who led all American land forces in World War I, was born near Laclede, Missouri, and his boyhood home is now a state historic site where visitors can learn more about his remarkable life. Frank Buckles visited Gen. Pershing's grave site at Arlington National Cemetery in 2006 and drew national attention as he and 12 other World War I survivors gathered. By 2008, Mr. Buckles had become the only survivor. He returned to Missouri that year at the age of 107 and visited the Liberty Memorial Museum in Kansas City. When asked what he would like to see or do while back in Missouri, he stated that he wanted to see his boyhood home in Bethany, and the home of his commanding general, John J. Pershing, in Laclede.
In Laclede, Mr. Buckles was welcomed by a crowd honoring Gen. Pershing and his service to the nation at an annual Memorial Day Program. He spoke about his service and brief encounter with Gen. Pershing in Oklahoma City. Buckles was given the key to the city of Laclede and was honored and recognized by state and local representatives. 
After a guided tour of Gen. Pershing's home, in a moment of solace sitting in his wheelchair looking up at the bronze statue of Gen. Pershing, he stated, "He didn't do this for himself, but for all the boys." With him at the time, Pershing Site Administrator Denzil Heaney was reminded of his favorite quote from Gen. Pershing: "My greatest hope is that I can lay with my boys, until the last trumpet sounds, and I can lead them unto the final victory." Now Frank Buckles has joined his general and his comrades.
A documentary film is scheduled to be released this year – "Pershing's Last Patriot: the Frank Woodruff Buckles Story" and includes footage of Mr. Buckles at the Pershing Boyhood Home. A trailer can be viewed at http://pershingslastpatriot.com/.
To learn more about Gen. Pershing and Frank Buckles, visit Gen. John J. Pershing Boyhood Home State Historic Site in Laclede, where Pershing lived until leaving for West Point in 1882. The home is open for tours and features exhibits and audio-visual programs about Gen. Pershing's life.