Saline County's Elite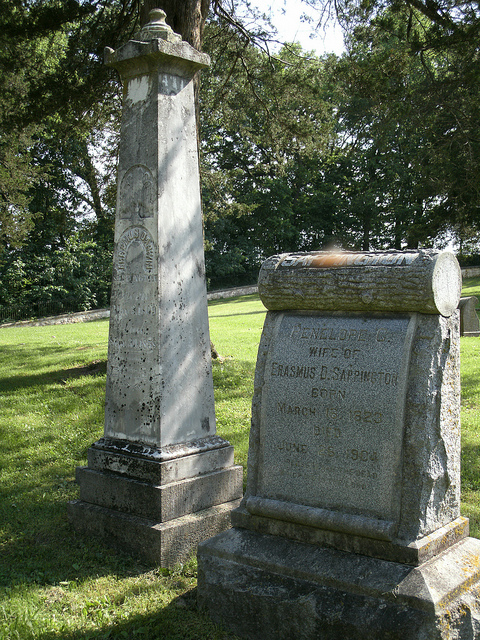 Dr. John Sappington (1776-1856), a prominent pioneer physician of Saline County, established this family cemetery in 1831. The 2-acre cemetery contains 111 headstones and markers and is enclosed by a limestone wall and wrought iron fence.
Dr. Sappington studied medicine in Kentucky and in 1804 married Jane Breathitt, the sister of Kentucky Gov. John Breathitt. In 1817, they came to central Missouri's "Boone's Lick Country" and by 1819 settled just west of Arrow Rock.
A nonconformist, Dr. Sappington attacked the common medical practice of bloodletting to treat patients. In the 1830s, he perfected and mass marketed quinine in pill form to treat malarial fever, a major disease in the Missouri River valley. The St. Louis Medical Society denounced him as a quack, but his "anti-fever pills" quickly became the frontier's most famous prescription. In 1844, he wrote "The Theory and Treatment of Fevers," the first medical treatise published west of the Mississippi River.
Dr. Sappington was also a business entrepreneur, agriculturist, land speculator and political confidant. He established an economic and political dynasty that included three Missouri governors. An inscription over his grave reads: "A truly honest man is the noblest work of God. He lay like a warrior taking his rest."
Along with the Sappington family, two of Missouri's governors are buried in the cemetery. Both had married daughters of Dr. Sappington.
Meredith Miles Marmaduke (1791-1864) was elected lieutenant governor in 1840. A Benton Democrat and strong Unionist, he became Missouri's eighth governor for nine months in 1844 after Gov. Reynolds died. Marmaduke married Dr. Sappington's daughter Lavinia in 1826 and became a partner in his father-in-law's enterprises. Active in the Santa Fe trade, Marmaduke also served as Saline County judge and surveyor. His son, John Sappington Marmaduke, was Missouri's 25th governor (1885-1887).
Claiborne Fox Jackson (1806-1862) was beginning his term as Missouri's 15th governor when the Civil War began. Jackson supported slavery and advocated the secession of Missouri. In June of 1861, federal troops occupied the capital of Jefferson City, forcing Jackson and pro-secession officials to flee and join Confederate forces. He died in Little Rock, Arkansas, in 1862 and was reinterred in Sappington Cemetery after the war.
Prior to entering politics, Jackson was Arrow Rock's first postmaster and engaged in retail trade and banking. He was elected to the House of Representatives from Howard County in 1842, and became a leader in the "Central Clique," the machine that dominated Missouri's Democratic Party politics during the mid-19th century. Jackson married three of Dr. Sappington's daughters: Jane in 1831, Louisa in 1833 and Eliza in 1838. All three women are buried in the cemetery.
Symbolism in Sappington Cemetery reflects some 19th century beliefs about death. Cedar and Austrian pine trees represent eternal life because they are evergreen. Gov. Marmaduke's arched monument suggests victory over death. The clasped hands symbolize a farewell and hope of meeting in eternity. The Masonic compass shows he was a member of that organization. Twin columns over Gov. Jackson's grave denote "noble lives" of him and his wife Eliza. Other symbols are found on stones throughout the cemetery:
Flowers: Generally symbolize the frailty of life. A rose in full bloom signifies someone who died in their 20s, the prime of life. A broken flower indicates someone died too young. 
Wreath of roses: Represents beauty and a life of virtue.  
Weeping willow: A symbol of lament and grief. The design had its origin with ancient Greeks, who believed the spirit of the dead would resurrect through a willow tree. 
Lamb: Indicates "innocence" marking the grave of a child and is also associated with the 'Lamb of God' (Jesus).
Scroll: A symbol of life and time.
Open book: Symbolizes the Bible or one's life recorded before God.
Tree trunk or log: The shortness or transience of life.
Hand pointing up: Ascension to heaven.
The Sappingtons and their extended families owned large numbers of enslaved African Americans, whose labor and skills contributed directly to their success and prosperity. In 1856, Dr. Sappington gave them a tract of ground as a burial place. Formerly known as the "Sappington Negro Cemetery," it is located on Route AA one-quarter mile south of the Sappington Cemetery. It became part of Sappington Cemetery State Historic Site in 2014 and was designated as a separate historic site in 2021.
Sappington Cemetery, along with two other cemeteries, became part of the state park system by an act of the state legislature in 1967. The act mandated that the state park board "suitably mark and maintain every grave of a former governor in this state, which is not within a perpetual care cemetery." Jewell Cemetery, near Columbia, houses the grave of Missouri's 22nd governor, Charles Hardin. The burial site in Herculaneum of Missouri's fifth governor, Daniel Dunklin, is also a state historic site.