An Early Boost for the South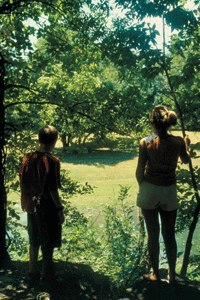 The Battle of Carthage was one of many Civil War battles fought in Missouri, a state torn apart by the war, placing brother against brother and neighbor against neighbor. Fought on July 5, 1861, it was one of the earliest engagements in the Civil War, preceding the Battle of Bull Run by 11 days. Battle of Carthage State Historic Site marks the location of one of the last skirmishes of the battle and the place where both troops had camped.

The Battle of Carthage pitted the Missouri State Guard, a pro-Southern force, against Union volunteer regiments. The Missouri State Guard, under the direction of Missouri's secessionist governor, Claiborne Fox Jackson, consisted of 2,000 unarmed, hastily assembled and poorly trained volunteers and 4,000 armed men under Brig. Gen. James Rains, who joined Jackson's men in Lamar before proceeding to Carthage. Although there were several generals available, Jackson took command of the joint forces even though he had no military commission. His troops would face the forces of Col. Franz Sigel - 1,100 well-drilled and fully armed men, most of whom were St. Louis German-Americans.

Sigel's men were on a mission to stop Jackson's men from reaching the southwest corner of the state, where they were to link up with other Confederate forces to create an army of more than 10,000 men capable of invading and possibly conquering Missouri. On July 4, 1861, the night before the battle, Sigel's troops camped at Carter Spring, now part of the historic site, while Jackson's troops camped about 18 miles farther north.

In the early morning hours of July 5, Sigel's men broke camp and began marching north. At the same time, Jackson's Confederate troops headed south. Between 8 a.m. and 9 a.m., the two troops encountered one another near Dry Fork Creek, about 9 miles northwest of Carthage. The battle opened with an artillery duel, as each side attacked the other for about an hour. Jackson then decided to surround Sigel's troops, capture his supply train and cut off his escape route. Seeing this, Sigel abandoned his plans to attack and ordered a retreat.

As Sigel's troops crossed Dry Fork Creek, another skirmish broke out, inflicting the heaviest casualties of the entire battle. At Buck Branch Creek, two Missouri State Guard regiments managed to circle around Sigel's column and form a blockade between his column and baggage train. Sigel led a bayonet charge, crossed Buck Branch, regained his baggage train and skillfully positioned his troops and artillery on all sides of the baggage train. He continued his retreat south, successfully fighting off attempts by the State Guard to attack his flanks.

As Sigel's exhausted troops marched into Carthage, Jackson's infantry launched another attack. The two forces fought one another house to house. While the fighting was taking place, Sigel positioned his artillery on the bluffs above Carter Spring, the present location of Battle of Carthage State Historic Site. One final stand near complete darkness, 2.5 miles farther on, ended the day's conflict. That night, Jackson's troops camped at the location of the historic site before proceeding to their original southwest Missouri destination.

Although Sigel was the loser by virtue of abandoning the field to his enemy and failing to block Jackson's southward movement, he made his escape with relatively few losses. Jackson's untrained force had allowed a numerically inferior enemy to escape virtually unscathed. The Battle of Carthage lifted the morale of the Missouri State Guard and other Southern sympathizers in the region. It resulted in minimal casualties on both sides.

Battle of Carthage State Historic Site preserves only a small area associated with the battle, as skirmishes were spread over 10 miles. The historic site encompasses the Carter Spring area, which remains with little change from its 1861 condition and appearance. An interpretive kiosk explains the events of that hot summer day in July 1861. Group tours are given upon request through Harry S Truman Birthplace State Historic Site.