Camper Cabins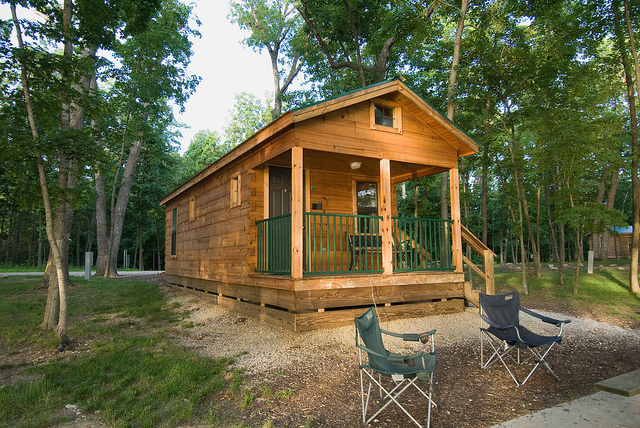 Nestled in the Salt River Hills in northeastern Missouri, Mark Twain State Park has been a favorite camping spot for many years. There is now a new reason to stay at this scenic park: camper cabins.
Bordering Mark Twain Lake, the park offers excellent boating, fishing and swimming opportunities that make guests want to spend more than one day. Those who don't want a rustic camping experience now have a new lodging option in camper cabins. The wooded setting and lake views provide the perfect get away for a quiet weekend or a weeklong vacation.
Six camper cabins are located in the park's Puma Campground. The log cabins provide accommodations for up to four adults and two children. These accommodations include a queen-size bed, a full-size futon and a carpeted loft for sleeping bags.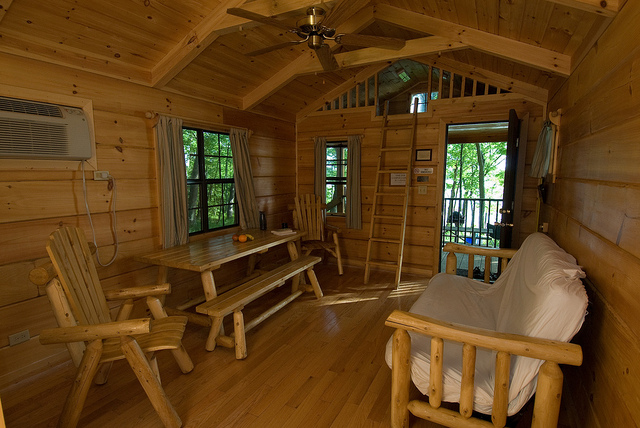 The camper cabins have electricity, heating and air conditioning but do not include water or restrooms. Each cabin has a dining table, ceiling fan, compact refrigerator and microwave/toaster oven. Exterior amenities include a porch bench, picnic table, pedestal grill and campfire grill. Parking is designated for each unit and can accommodate two vehicles and a boat trailer. Drinking water is located nearby. A modern central restroom and showerhouse, located within walking distance of the cabins, is available during the camping on-season (April 15 to Oct. 31). During the camping off-season, a vault toilet is available at the Puma Loop, and water is available at frost-free hydrants in the campground.
To prepare for your experience, bring your camping gear such as lanterns, cooking and eating utensils, and water containers. Guests must bring their own linens and sleeping bags. Open-flame cooking is not allowed in the cabins or on the cabin porches. Cooking with griddles, Crock-Pots and other non-flame cooking devices is allowed. Smoking is not allowed inside the cabins. As part of the Cabins for Canines program, guests renting Cabin A or F are allowed to bring up to two dogs. Detailed information on associated fees and rules can be found through the Cabins for Canines link in the upper right of this page. Pets are not allowed in cabins B through E. Cleanup and trash removal are the responsibility of the lodging guest and should be completed before checkout.
The camper cabins are available for rent March 1 to Nov. 30. The on-season rate is $75 plus tax, and the off-season rate is $70 plus tax. Rates are for one to six occupants (four adults and two children). Full payment for your stay will be due at the time you make the reservation. There is a three-night minimum stay on holiday weekends and a two-night minimum stay for all other weekends.
Please visit the Lodging Reservations page for other important policy information before making your reservation.
Cabin F is handicap accessible.