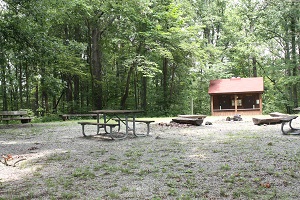 The special-use camping area is by reservation only for group camping. Organized youth groups (Scouts, 4-H, church, etc.) have priority.
This area offers campers a large area to set up multiple tents and includes vault toilets, picnic tables and a fire pit. It does not have water or showers. Campers may use the facilities in the Lake Boutin Campground. Camping capacity is 40 campers and/or 10 cars. A $2 per camper per night fee is charged. Check-in is 3 p.m., and checkout is 3 p.m. the following day.
Contact the visitor center at 573-290-5268 to make your reservations for the special-use camping area. 
Park Hours
Weather