Fisher Cave Tours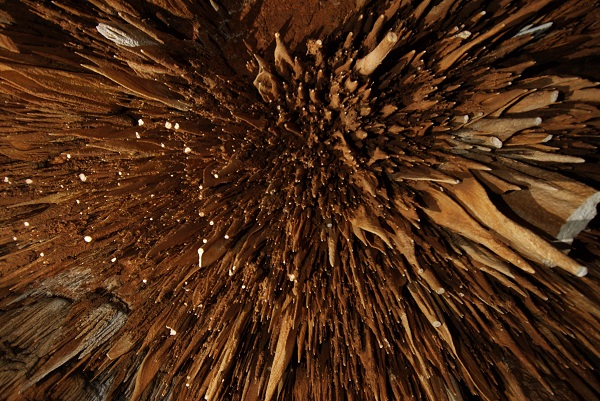 Fisher Cave is truly one of the park's most spectacular natural wonders. Naturalist-led tours provide an interesting adventure for park visitors. From the low, narrow streamside passages to the huge rooms filled with calcite deposits, Fisher Cave offers one outstanding cave scene after another. Inside these rooms and passages are well-preserved bear claw marks, cave wildlife and a vast array of calcite deposits ranging from intricate hellectites to massive columns 30 feet tall.
Tour Hours
Click here for tour hours.
Tour Fees
| | | |
| --- | --- | --- |
|   | Regular Admission | Group Rates * |
| Adult | $12 | $8 |
| Teenager (ages 13-17) | $10 | $8 |
| Child (ages 6-12) | $8 | $6 |
| Child (under age 6) | Free | Free |
Fees do not include tax. Qualified tax-exempt organizations must provide a copy of a tax exempt certificate at the time of payment.
*Group rates are available for educational groups (schools, Scout troops, etc.). All groups must schedule tours at least two weeks in advance (subject to availability). We reserve the right to limit tour sizes.
Tickets are sold on a first-come, first-served basis for non-educational groups.
Tour Reservations
Tours can be reserved online on our reservation website or can be purchased on demand at the Fisher Cave building, located near the cave entrance. For more information, contact the park at 573-468-6072.
Permit and Non-Permit Caves
All caves have special resources and/or special hazards. For example, several caves are closed during the winter due to bat hibernation. For information on which cave will best meet your needs, contact a park naturalist at 573-468-6072.