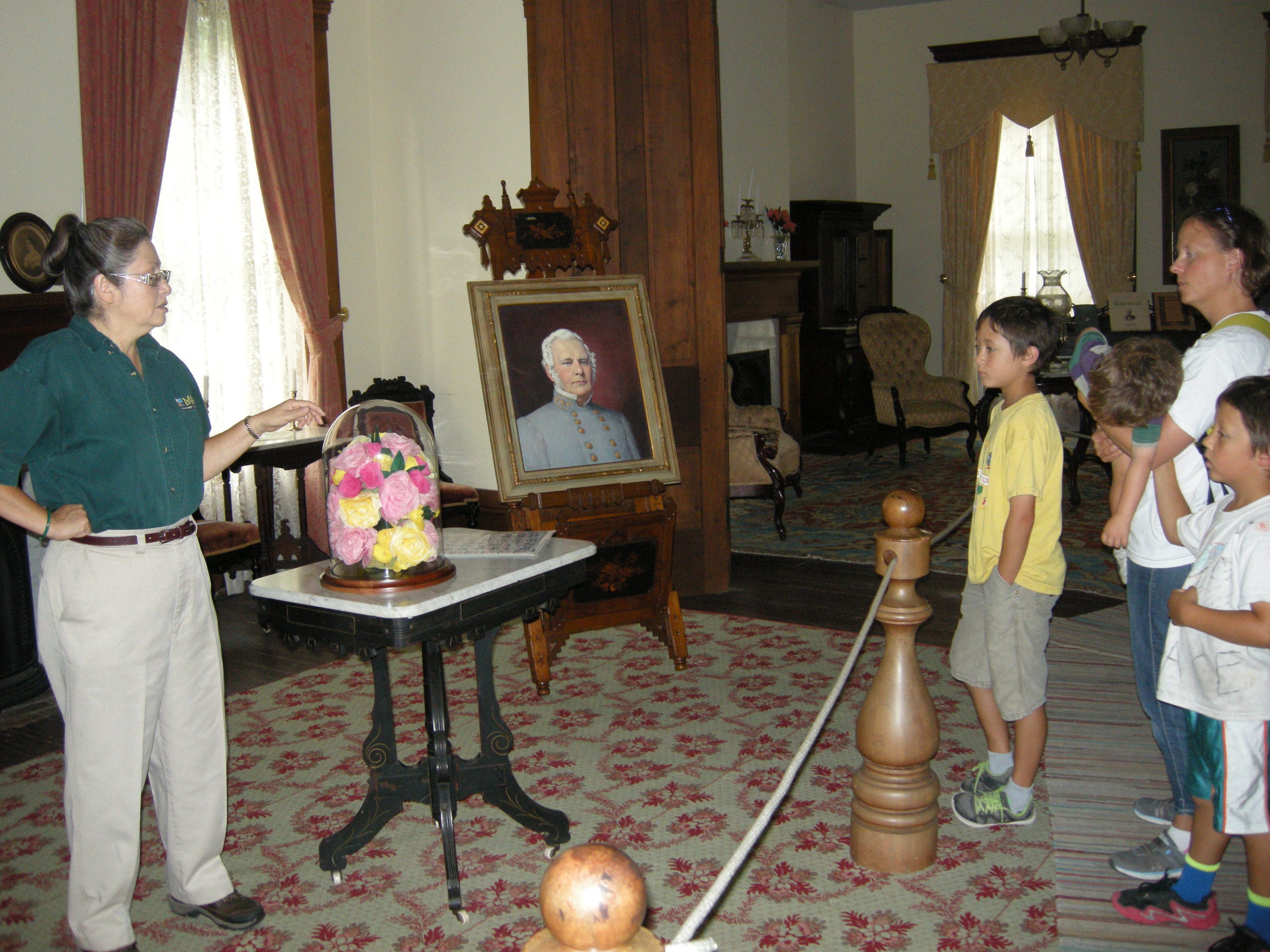 Admission to the visitor center, including its exhibits, audio-visual room and souvenir shop, is free.
Tours
Battle of Lexington State Historic Site offers two different tours: the Anderson House tour and the battlefield tour. For one tour fee, visitors can take both tours to get a better understanding of the importance of our Civil War battle, its part in the overall Civil War Missouri story, and the importance of the Anderson House as an antebellum home and a field hospital during the war. Both tours are 45 minutes to one hour long. Click here for the full tour schedule. The Anderson House tours include the first and second floor of the house, using the main staircase. The battlefield tours walk to different points on the battlefield to tell the story of what occurred during the three-day battle. Please be prepared for uneven walking surfaces out on the battlefield. To keep our visitors and staff safe, we do not offer the Battlefield tours during inclement weather.
The battlefield tour takes place outside, and the Anderson House does not have air conditioning or heating, so both are subject to weather conditions and seasonal temperatures. Please see our suggestions below on how visitors can prepare for a tour.
Summer Months
There is limited shade available on the battlefield, so we recommend visitors protect themselves from the sun by using sunscreen, a hat or an umbrella. We highly encourage visitors to bring water with them to stay hydrated. The Anderson House can get very warm and stuffy during the summer, so water bottles and hand fans are allowed to keep visitors more comfortable during the tour.
Fall and Spring Months
Please dress appropriately for the weather for both warm and cool conditions both inside and outside.  
Winter Months
Please dress warmly with layers when taking tours in the winter. It is common for the inside of the Anderson House to be as cold or colder than outside temperatures, so we recommend visitors wear a hat/hood and gloves/mittens on the tour. Battlefield tours are still available; however, they will not be given under extreme weather conditions.
Groups
Please call the historic site at 660-259-4654 in advance for a group tour so your needs can better be accommodated.

Tour Fees:
All tour fees include tax. Qualified tax-exempt organizations MUST provide a copy of a tax-exempt certificate at the time of payment.
Adults (ages 18 and older): $5
Youth (ages 6-17): $3
Child (ages 5 and younger): Free*
Group Rates:
Adults (ages 18 and older): $4
Youth (ages 6-17): $2.50
Child (ages 5 and younger): Free*
*Children under the age of 6 are admitted free with a paid adult.