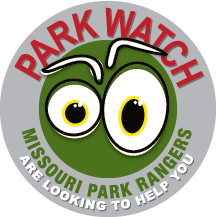 One of the goals of the Missouri state parks is to provide a safe and enjoyable recreational experience for all park visitors. Although state parks are safe places to visit, crime may occur. The Park Watch Program is an effort by the state park rangers to inform visitors of a few simple precautions they can take to help reduce their chances of personal loss and to help keep the parks a safe and enjoyable place to visit.
The following precautions will reduce your chances of being a victim of a crime. Read each item at the beginning of your stay and note any areas that might apply to you.
Become familiar with the location of the park office, information kiosks, and the campground host site. Many campgrounds are staffed with volunteer campground hosts. These individuals live in the campground seasonally and are trained to provide visitor assistance.
Emergency contact phone numbers are posted on bulletin boards and kiosks around the park. These locations contain information on how to contact the park ranger and staff members. Listings also include phone numbers for the following: county sheriff, highway patrol, local ambulance and fire departments.
Get to know fellow campers and slip renters. You may be surprised how much you have in common. Agree to watch each other's personal property. Working together may result in a safer visit and long lasting friendships.
Secure your property including coolers, stoves, lanterns, gas cans and sports equipment during the night and during extended absences.
Lock your camper, trailer or motor home when you are away from your campsite. Remove items of value and zip your tent.
Lock your vehicle and take a spare key with you rather than hiding one on your vehicle.
Take your valuables with you or secure them out of sight or in the trunk of your vehicle.
Keep axes, hatchets and knives secured so they cannot be used as a tool to break into your vehicle or camper.
Lock your bicycles, motorcycles, ATVs, etc. with a case hardened steel lock and chain.
Report any suspicious people or activities to the park ranger or park staff, noting descriptions, vehicles, license numbers and direction of travel.
Mark all your property clearly with your name or an assigned number. Make certain you can describe and identify your property by type, model and serial number.
Everyone in your group should be aware of all park rules and regulations.
Notify the park ranger or park staff of any backcountry hikes, or long absences from your campsite or vehicle.
Supervise your children closely during your visit. Develop an emergency plan with your children in case they should become lost or separated.
Children should not be allowed to swim by themselves. Most state park beaches do not have lifeguards on duty.
If bicycles are used at night, they should be equipped with proper lights.
When walking on or near a dark roadway, carry a hand-held flashlight and wear light colored or reflective clothing.
Keep a well-stocked first aid kit in a designated area in your vehicle or camper. Each person in your group should know where the kit is located.
Never leave your campfire unattended and make sure your campfires are completely out when you leave the campground. Campfires are prohibited in non-designated areas in the state parks. Do not empty charcoal grills into trash containers or nearby vegetation.