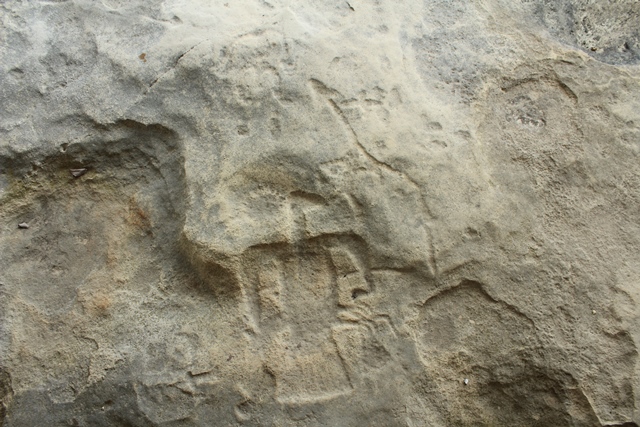 There are two petroglyph sites available for public viewing at Washington State Park. 
The main petroglyph site is near the north entrance to the park and across Highway 104 from the road to Shelter #1/CCC Ridge Shelter. This site features wooden benches and an informative kiosk at the beginning of a level paved pathway that leads to the petroglyphs. A very short walk leads to an open, covered shelter and a wooden observation deck for viewing the petroglyphs below. Overhanging interpretive panels provide information on the site.
The small petroglyph site is near the north entrance to the park next to the interpretive center. There is a small flagstone pathway to a wooden observation deck to view these petroglyphs and an interpretive panel.
The petroglyphs are culturally significant. Visitors are asked not to damage, deface, litter or collect from these areas. Please stay on designated walkways and do not step or walk on the petroglyphs. The accompanying glade next to the main petroglyph site is an important natural area. Do not carve, destroy or deface the flora or stone in this area.
Hours and Tours
Both petroglyph sites are open during park grounds hours, 7 a.m. to sunset, year-round.
Guided Petroglyph tours are offered by park interpretive staff regularly from Memorial Day weekend through Labor Day weekend at the main petroglyph site. Petroglyph tours are usually on Saturdays at 2 p.m. Guided tours may also be requested by calling the park office at 636-586-5768. For more information on interpretive programs at Washington State Park, click here.