George Jewell's Famed Family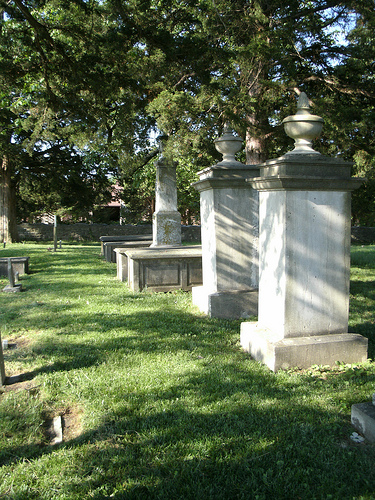 A stone wall and iron gates surround the graves of a well-known educator and a governor of Missouri who are among the more than 40 descendants of George A. Jewell buried in Jewell Cemetery.
Located within the city limits of Columbia, Jewell Cemetery was once part of an estate owned by George Jewell, whose family became one of Missouri's earliest dynasties. Jewell set aside the lot for the final resting place of his descendants. In 1841, he deeded the cemetery to his son William and grandson Thomas. The most noteworthy of George Jewell's descendants buried in the cemetery are William Jewell and Charles Hardin.
William Jewell (1789-1852), the most well-known of the Jewell family buried in this cemetery, was a long-time educator, physician, reformer, architect and ordained minister. He held political office as mayor of Columbia and later as a state legislator.
As mayor of Columbia, Jewell initiated the surveying and paving of the city's streets. He also improved sanitation standards in the early town. Later, as state legislator, Jewell worked for reforms such as abolishing the whipping post and pillory and for establishing a public hospital in St. Louis. He also was a strong supporter of public schools. He supported a bill to establish the location of the state university in Columbia and chaired a committee to raise subscriptions for the university, giving $1,800 himself.
An ordained minister, Jewell helped to establish the first church in Columbia - Columbia Baptist Church (1823). Committed to education and religion, he contributed money for the establishment of a Baptist college, and as an architect, he took charge of its construction until his death. Chartered in 1849, this college in Liberty, Missouri, was named William Jewell College.
Inside Jewell Cemetery, William Jewell's tombstone has a memorable epitaph: "His work is done, he did it well and faithfully."
Another well-known descendant of George Jewell was Charles Henry Hardin (1820-1892), Missouri's 22nd governor. Hardin was the son of William Jewell's sister, Hannah Jewell Hardin. He attended Columbia public schools and in 1837 attended colleges in Indiana and Ohio. After returning to Columbia, he practiced law before moving to Fulton. While practicing law in Fulton, he was elected to the Missouri House of Representatives and then to the Senate, serving from 1852-1860.
During the Civil War, Hardin practiced law in Mexico, Missouri, but returned to the Senate in 1872. Two years later, he was elected governor on the Democratic ticket. Hardin was one of the founders of Hardin College for women in Mexico and also helped establish a city park and organize the Missouri Military Academy there.
The earliest grave in Jewell Cemetery dates from 1822, with the most recent dating 1968. About 20 unlettered, but neatly quarried blocks of native limestone lie as grave markers at the back of the cemetery. These are presumed to mark the graves of enslaved people owned by the Jewell family.
Jewell Cemetery, along with Sappington Cemetery near Arrow Rock and Gov. Dunklin's Grave in Herculaneum, became part of the state park system by an act of the state legislature in 1967. The act mandated that the state park board "suitably mark and maintain every grave of a former governor in this state, which is not within a perpetual care cemetery." Sappington Cemetery houses the graves of Missouri's eighth governor, Meredith Miles Marmaduke and 15th governor, Claiborne Fox Jackson. The burial site of Missouri's fifth governor, Daniel Dunklin, is also a state historic site.