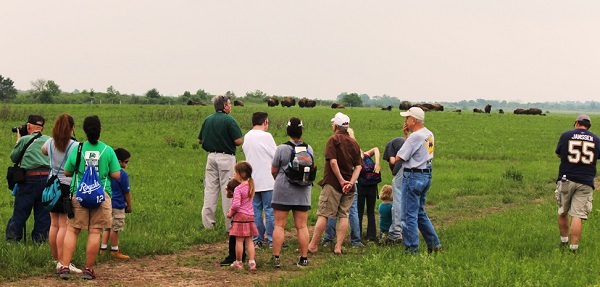 Attend one of the regularly scheduled programs held throughout the year at Prairie State Park.
Here are some examples of the types of programs provided on a regular basis:
Wildflower Hikes
Wildflower hikes are held periodically during the summer months. Please contact the Regal Tallgrass Prairie Nature Center for dates and times.
Bison Hikes
Guided bison hikes are held monthly, except October. A naturalist will lead you out on to the prairie to view the bison and study their behavior, habitat and much more. For dates and times of these hikes, please contact the Regal Tallgrass Prairie Nature Center or see the park's special events.
Summer Programs
Interpretive programs are held throughout the summer months. These programs cover a large range of natural and cultural history topics. For dates, times and themes of these programs, please contact the Regal Tallgrass Prairie Nature Center.
Group Programs
Programs for groups such as school groups, Scout groups, church groups, organizations or private groups can also be arranged any time of the year by contacting the park naturalist at 417-843-6711.
Explorer Program Daycamp
Each summer, a half-day Daycamp is held in order to meet the requirements of the Missouri State Parks and Historic Sites Explorer Program. Educational facts are mixed with fun games, crafts and much more to ensure a unique learning opportunity. Preregistration is required.
Prairie Jubilee
This is a biannual event held on the last Saturday in September of all even numbered years. Prairie Jubilee is the premiere event of the park to celebrate the tallgrass prairie. Step back in time on the living history loop as you visit trappers, hunters and pioneers. Music, storytelling, children's activities and guided wagon rides to view the bison will be available. A bison lunch will be served for a small fee. Contests and various displays will also enrich your prairie experience.