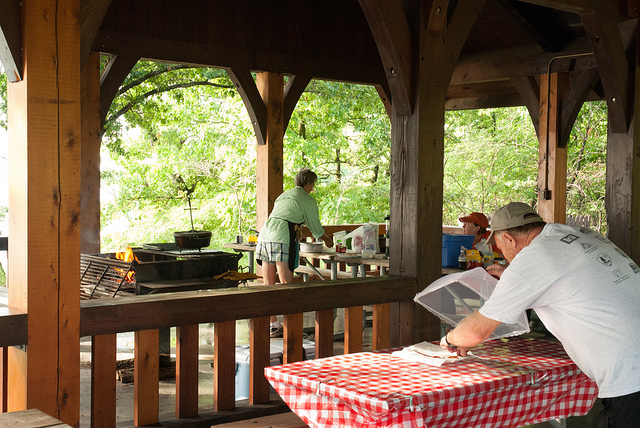 Two main picnic areas, located off of Highway 215, provide great spots for a picnic lunch. The picnic areas are open during park hours and are equipped with outdoor grills and picnic tables.
Picnic Shelters
Stockton State Park is a perfect venue for hosting large family gatherings and special outings. Two large open picnic shelters that can be reserved at a rate of $50 per day.
The North Shelter, which overlooks the lake and includes electricity and water, is a reproduction of the Civilian Conservation Corps and Works Progress Administration work done in the 1930s. The North Shelter includes electrical outlets, picnic tables, an outdoor grill and access to restroom facilities and children's playground equipment. It can accommodate up to 100 people.
The South Shelter, located in close proximity to the marina boat launch, features picnic tables, an outdoor grill and access to a boat slip and restroom facilities. It can accommodate up to 50 people.
Shelter Reservations
To reserve a shelter, contact the park to check for availability by calling 417-276-4259. If available, fill out the Shelter Reservation Application and mail it to the park for approval. Submission of this application does not guarantee reservation of the shelter. If not reserved, the shelters are available at no charge on a first-come, first-served basis.
Playgrounds
For the kids, playground facilities are available in the vicinities of the north shelter and both the east and west campgrounds.