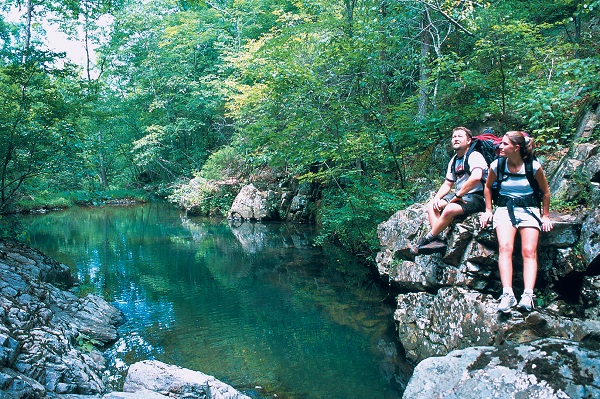 Backcountry camping, or "backpacking," can be the ultimate experience for hikers. Sometimes you need more than just a single day to see all the sights in Missouri's state parks – and to discover the nights can be even more striking. Twenty state parks and one backcountry area offer opportunities for backpackers who want to get away from it all. Registration is required for overnight camping.
As with any backpacking trip, trail users should be considerate of wear and tear on the trail, taking only photographs and leaving only footprints. The impact of fire rings and wood gathering for campfires in wilderness areas have led to the prohibition of backcountry campfires in some parks. 
Missouri's state parks offer convenient access to the Ozark Trail, as well, for longer backpacking adventures.
What to Expect: dispersed camping versus designated sites
Dispersed Camping
Where allowed, hikers may camp anywhere along the trail. You must camp at least 100 feet from the trail; 200 feet from any major public use area, water source or private property; and at least one-fourth mile from the trail entry/exit point.
Groups of seven or more persons are permitted to camp only in designated areas. Where dispersed camping is allowed, smaller groups are not required to use the designated areas.
Equestrians camping overnight on a backpacking trail is restricted to designated camping areas, where allowed.
Designated Sites
Some parks only allow camping in designated backcountry campsites, regardless of group size. Make sure to register ahead of your trip and use the trail maps provided to plan your route.
General Rules
All backpackers must register online, at the park office or at trailhead as designated on the park's webpage before starting their trip. Backcountry camping permits for each park, along with maps and other important information, may be found by following the links in the table above.
Campfires are prohibited unless there is a designated backpacking campsite along the trail where a fire ring has been provided.
On most trails, stoves will be needed for cooking. Rock fire rings are not allowed. Please DO NOT cut live trees for firewood. Be sure to check fire conditions in your area!