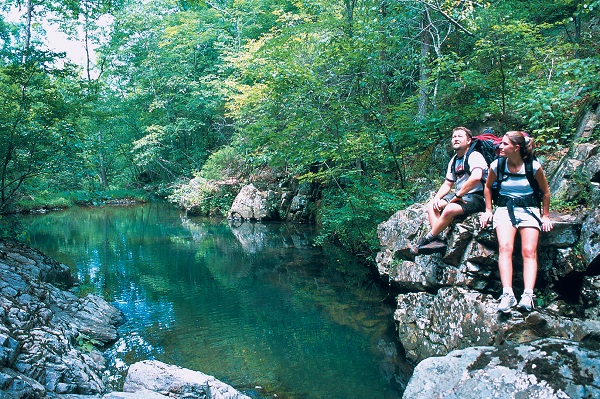 Sometimes you need more than just a single day to see all the sights of Missouri's state parks – and to discover the nights can be even more striking. Seventeen of the state's parks offer opportunities for backpackers who want to get away from it all.
Mudlick Trail, at Sam A. Baker State Park, climbs from 415 feet above sea level to more 1,300 feet above sea level over some of the most rugged terrain in the St. Francois Mountains. Two backpack camps on the trail help break up a rugged hike filled with spectacular vistas.
At Ha Ha Tonka State Park, the 7-mile Turkey Pen Hollow Trail winds through the Ha Ha Tonka Oak Woodland Natural Area, one of the best oak woodlands remaining in Missouri's Ozarks. Post oaks, white oaks and chinkapin oaks that are more than 150 years old line the natural area's rugged slopes, making this a perfect backpacking destination for those who love the feel of the Ozark woodlands.
The 15-mile Lake Wappapello Trail at Lake Wappapello State Park is an ideal backpacking destination, traversing varied – but nearly always rugged – Ozark landscapes.
Missouri's state parks offer convenient access to the Ozark Trail, as well, for longer backpacking adventures.
As with any backpacking trip, trail users should be considerate of wear and tear on the trail, taking only photographs and leaving only footprints. The impact of fire rings and wood gathering for campfires in wilderness areas have led to the prohibition of backcountry campfires.